Using lead for ballast's my Plan F or G, better to try water first as much as possible for those reasons. Or get by with as little as possible, why I'm bothering with the ama addition.
Getting started with 'glassing 'em today, very pleased with how they're turning out at this point. Experiences with main hull really helped me get up to speed with techniques appropriate for epoxy.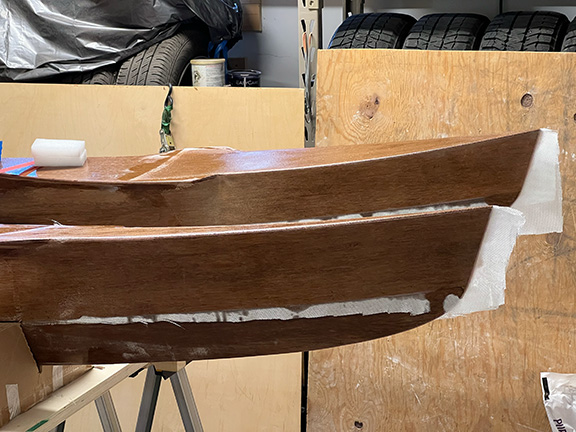 I'm using a different order-of-application than suggested in the build manual for putting 'glass on these things, seems more appropriate & puts all the fairing with a mind to water flowing aft. Also puts some extra layers at points of high stress. With the thinner ply I'm using this may be helpful for keeping 'em together.
I'd intended to weigh 'em before I rolled on the sealer coat earlier this week but got ahead of myself before I realized the opportunity was gone. Will weigh 'em once the 'glassing's complete; curious what you others might see if you try this!
Working towards getting all this ready for an event coming up early next month, been invited to join a local bunch 'convoying' up to Lake Pepin north of where I am. This year it's June 3-5, just two more weekends, getting really close!!