After going 3D, next was turning upside down and fixing on the bottom. Dry fix first with gyprock screws, then I lifted & glued one end, screwed it down and lifted & glued the other end to make sure it stayed aligned. Rather than wait for the epoxy to fully harden I then turned it right-way up again and on to the delicate task of cutting the slot for the centrecase (nail biting! much careful measuring) and gluing the centrecase on. After that cutting and gluing the mast step & partner before gluing that in place.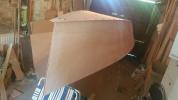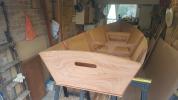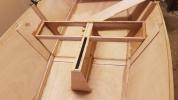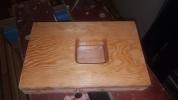 Then gluing the gunwale (had to be bevelled first - much planing!). All the long timber parts had to be scarf-joined; I joined the gunwale, inwale and gunwale-capping all at once (long parts again - had to be done before the 3D hull, as explained on the earlier post). At the same time I was putting seat support stringers in fore and aft.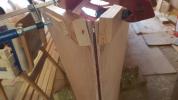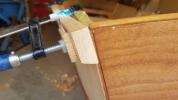 The inwale spacers are fiddly - cutting lots of 70mm blocks to be smoothed and sanded with some different sizes so that they would fit to/round the frame tops; also a longer one to be used to fix the rowlock sockets. To sand the curves I made a cylindrical block by stapling sandpaper onto a solidified foam roller that had been used for epoxy. Sanding was pretty tedious but worthwhile to get the shape.



Along the way there were tank-tops/seats to cut to size. The kit panels are oversize so that they can be cut to the actual hull shape. I made that a bit difficult for myself by missing a few words in the text: 'do not glue these on yet' in relation the the arms on the bulkhead frames - I was working from the diagram and had already glued them on first. It meant some very careful measuring and cutting to fit the forward and aft tank tops. Done in the end but could have made it easier if I'd read the instructions more carefully
All the panels have to be epoxy coated (3 coats) - in theory wet-on-wet but the timing is difficult. While the epoxy gets tacky the foam roller starts to set so I've generally done 2 coats wet-on-wet, then sanded when it's set next day, then done the third coat - seems to work pretty well. It will all be varnished at the end so the epoxy finish only needs to be good, not perfect.
Last week I glued on all the spacers - which had to be done in four sessions as I only had enough clamps for 16 at a time (there are 31 on each side of the boat!) and then the inwales. Now it really looks like a boat! I have to keep reminding myself that there's quite a lot still to do.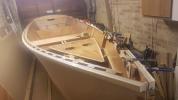 Last edited by SteveM (26 Jul 2020 9:28 pm)