By way of introduction I should say that, amongst other things, I'm a regular and enthusiastic winter mountaineer up here in the Scottish Highlands, so it goes without saying that masochism runs deep in me!
Building from plans is not too dissimilar (...though drier and warmer) since masochistic tendencies are required to wrangle two and a quarter full sheets of scarfed and glued up & cured 6mm plywood, to say nothing of repetitive long cuts in very expensive materials. Anyone considering building from plans needs to consider this in addition to having sufficient space to assemble your plywood 'raw materials' and cut them into a kit of parts. Rather like banging your head against a wall, it's good when it stops!
The NE dory is an itch I've been meaning to scratch for a while now. I remember coming across a video on YouTube called 'Boatymoon', which is about a boat trip in a NE dory along the Maine Island Trail in Penobscot Bay on the NE coast of the USA. It's great viewing and inspired visions of doing something similar in very sheltered parts of the North West coast of Scotland, not very far from where I live.
A plan was hatched....
So, a build from plans or a pre-cut kit? Cost had something to do with the decision but I also quite liked the idea of starting with a pile of plywood sheets plus timber and turning it into a boat. A selection of the right tools also meant I could accurately cut out the parts and without too much drama.
Having built a Kaholo 12' 6" paddleboard I understood the processes involved in creating scarf joints but wondered if I could improve on just using various different planes on a staggered stack of plywood. Online I came across a scarf joint jig that utilised a big circular saw and ended up building something similar. Unfortunately, it didn't give me the accuracy I'd hoped for so with that in the bin it was back to the the block plane et al.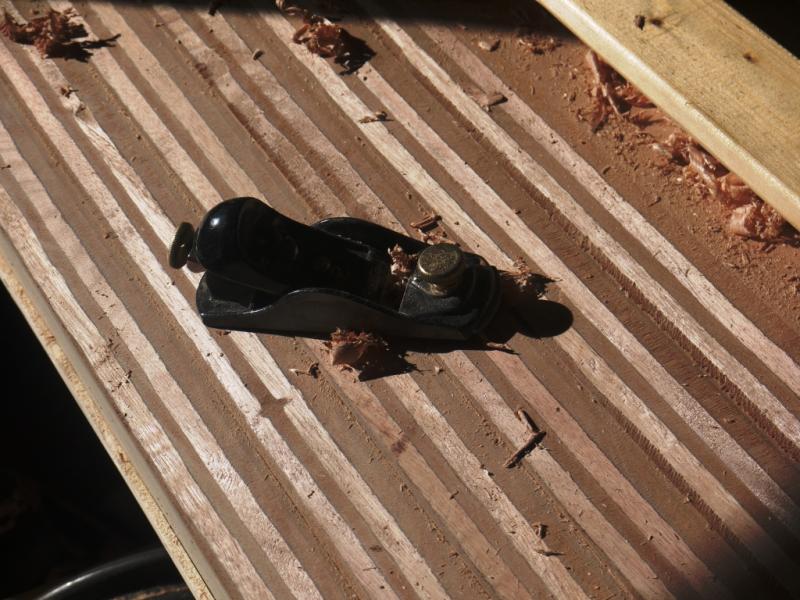 The scarfs turned out great. The photo above is of a stack of 6mm Bruynzeel Marine ply that was attacked first with an electric planer to remove the bulk of the stock then finessed with a block plane.
Top tips for producing scarf joints:-
* Pencil mark the top of the cut on each sheet and stagger the plywood sheets accordingly.
* Put the stack of sheets on a flat, supportive work bench/table then clamp or weight the stack down close to where you're planing. If your work bench/table isn't perfectly flat and really firm at the 'business end' then the quality of your scarf joints will suffer.
*Plane the ply to leave a fine feather edge on the bottom edge of the sheet. Actually, scarfing (is that a verb?) was quite simple once set up and really satisfying to carry out.
* A very sharp plane helps enormously, plus the wherewithal to sharpen the blade. I must have sharpened the blade of the block plane about 3 times during scarf joint production on the 6mm ply?
I used epoxy plus a silica filler as an adhesive which I guess is pretty standard practice in the boat-building world. Had a go with 'Gorilla' glue (PU) - the foamy stuff that likes to stick to your fingers for two weeks - for the scarf joints on the Kaholo SUP. The 'Gorilla' glue worked OK on the SUP but is much messier to apply than epoxy.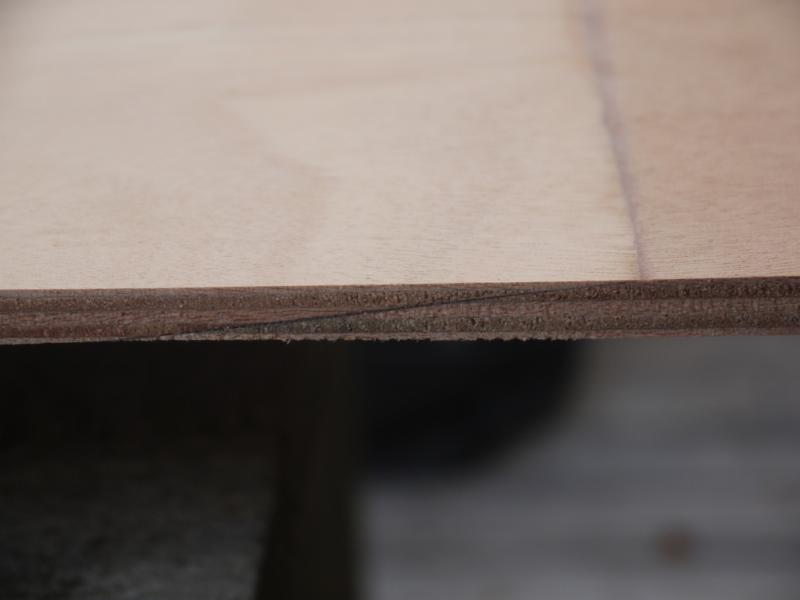 I was keen not to over-compress the scarf joint immediately after gluing up in order to leave a small amount of epoxy in the middle of the scarf 'sandwich'. Too much weight or clamping force would have squeezed most of the epoxy out and I guess weakened the joint. Spending a little more time endeavouring to get a feather edge when planing meant I gained nice flat joints without underlap (requiring filling) or overlap (requiring sanding). Only needed a relatively light sanding to remove the surface smudge of squeezed-out epoxy. (Each joint was masked top and bottom across the plywood sheet surface with wide parcel tape prior to gluing to enable a faster and better clean up).
(Below) OK, two and a quarter sheets of 6mm ply scarf-jointed end on end, glued up and cured:-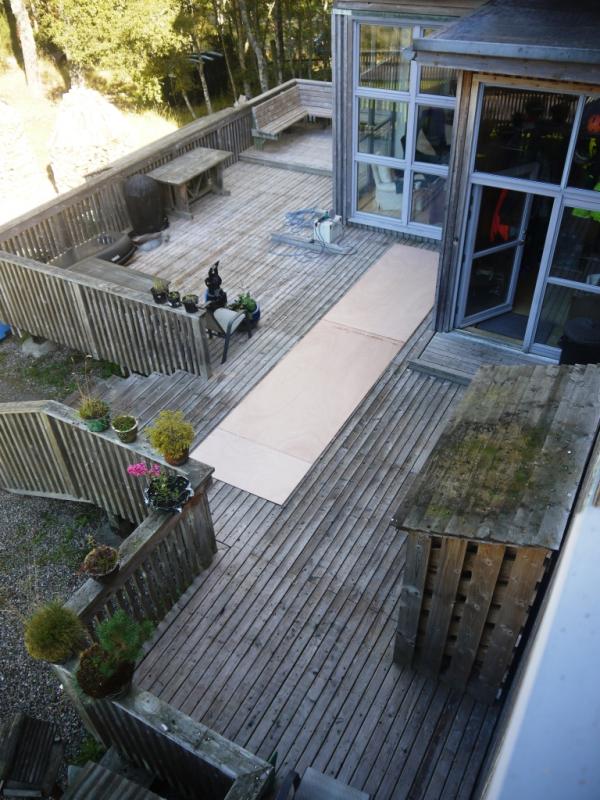 Health warning: Moving two 18' long sheets of 6mm ply is a nightmare. Two people were needed to move the first one but I managed to wrestle the second one unaided. (Yes, I am a gorilla).
(Below) During the recent dry weather I lofted the outlines of the components outdoors with one of these: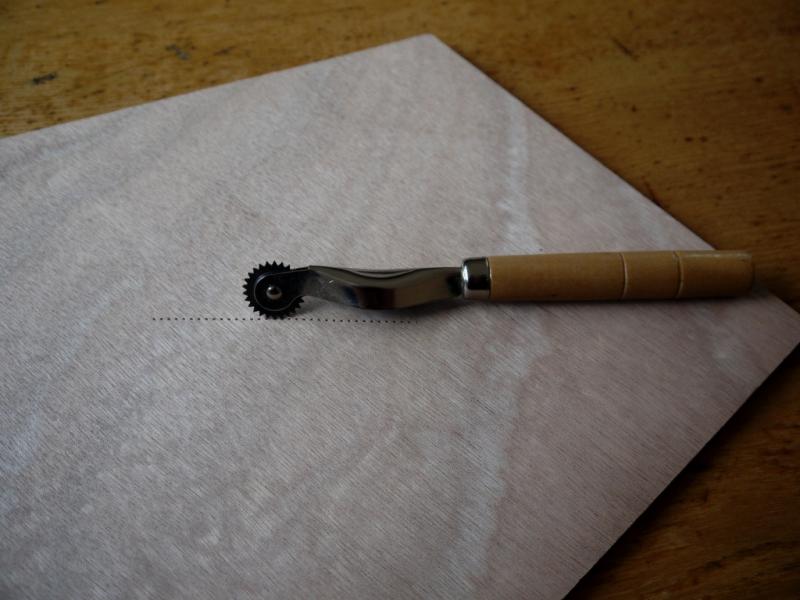 Dress-makers use them for much the same purpose and it seemed a more accurate and faster technique than scoring holes with an awl followed by the laborious joining of the dots. Bought one on eBay for about £3(?)
The supplied build manual offers spot on advice for making long cuts in plywood: can't fault it. A circular saw with a small blade makes short (and accurate) work of very long curving cuts.
(Below) The trick is to set the blade so there's only a cm or so of blade projecting down through the plywood:-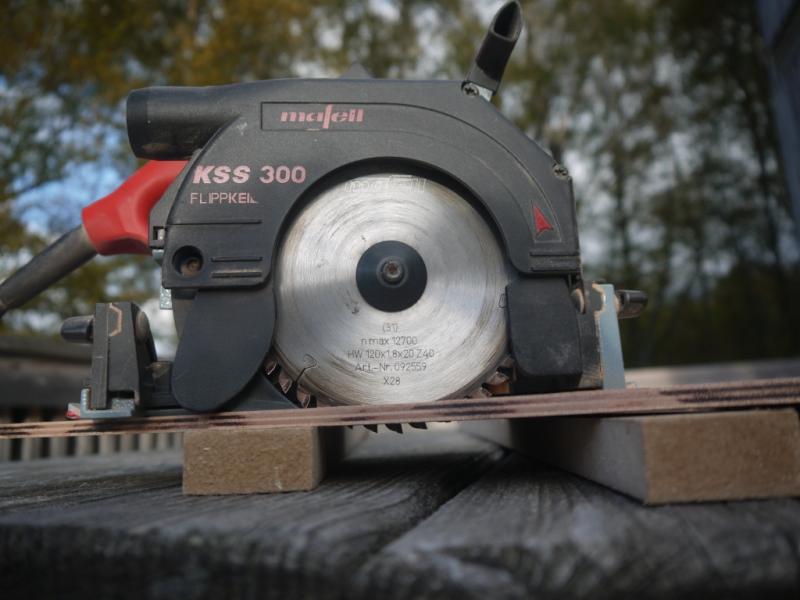 (Below) With the blade sticking down beneath the ply it's essential to have 'sacrificial' strips laid on your work surface:-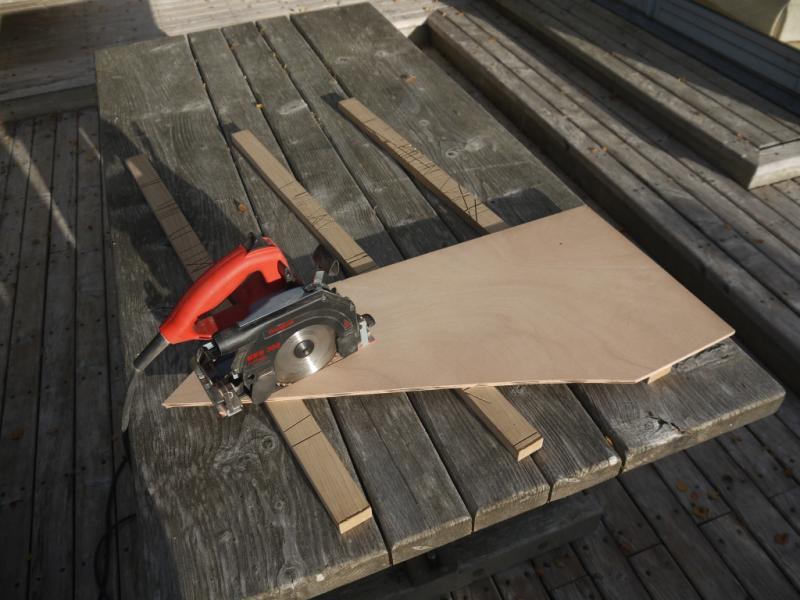 (Below) Long curving cuts with this technique are easy to achieve and fast to execute:-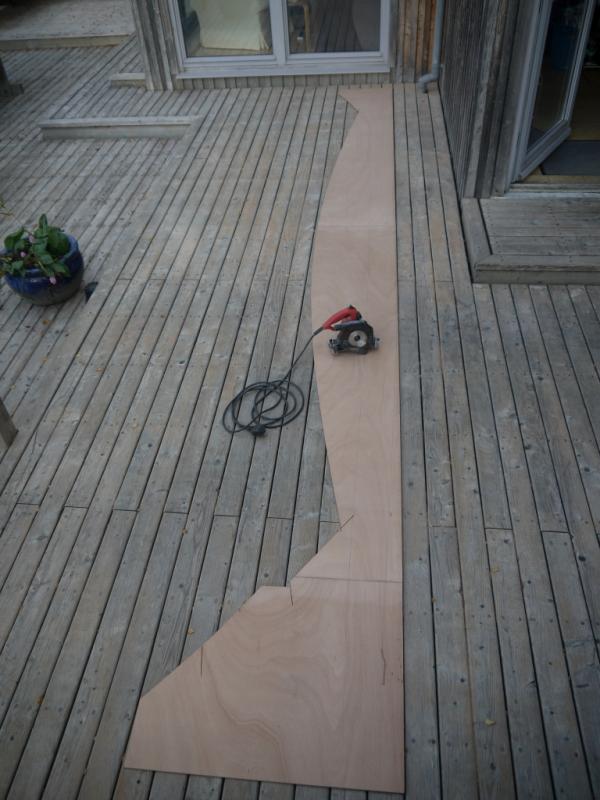 Making similar cuts with a jig saw on such long unwieldy sheets would be nigh on impossible.
(Below) There's a surprising number of arrow-straight cuts to make on some of the ancillary components of the build and a plunge saw with dedicated track made very accurate cuts in short order:-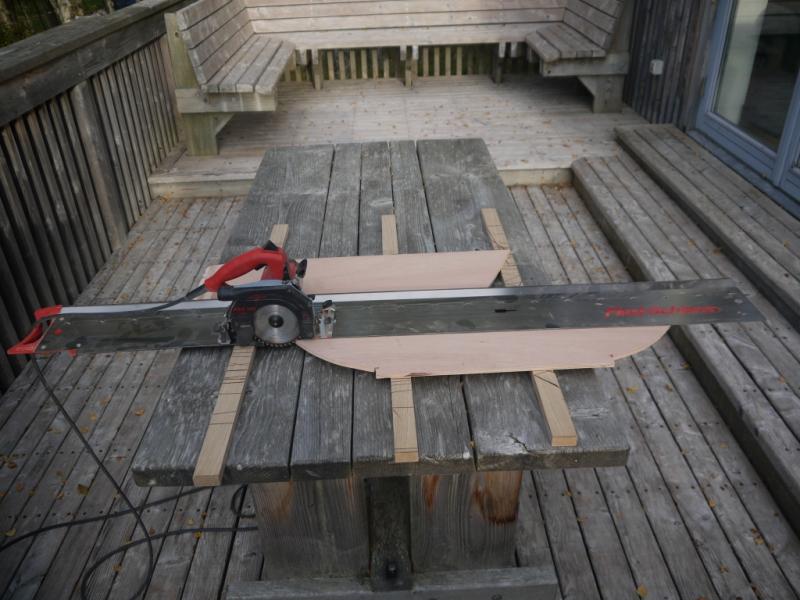 (Below) Cutting out all 8 of the long longitudinal members of the hull took about an hour:-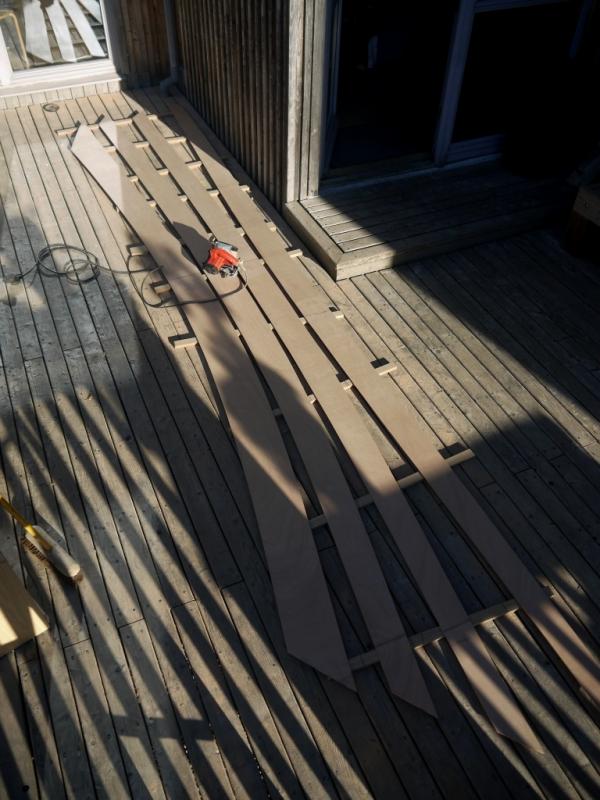 The edges of each part of the rapidly emerging 'kit' needed a brief clean up with a block plane to get the outlines spot on.
I was initially worried about the overall accuracy of lofting plans then cutting but so far the results have been excellent - at least that's the way it seemed when laying the fettled components back onto the full size paper plans.
My next jobs are to buy some Siberian Larch for the spars and gunwhales, seats etc. and laminate-up components like the spars, bulkheads, transom, centre board, tiller etc before laying down tools for the winter. My workshop/garage houses a car during the winter months so I'll be without full workshop capability until the end of April after which the kit, I hope, will suddenly jump up into the shape of a dory!
Last edited by CrimeaRiver (13 Oct 2016 10:06 pm)