Well, here we go! I loved meeting the Grain crew in York, Maine. Mike and Brad have a truely dedicated team working with them designing, building, teaching classes, sending out homegrown kits.
The visit would not have been complete without meeting the cows!
All round good guys and I can't wait to go back.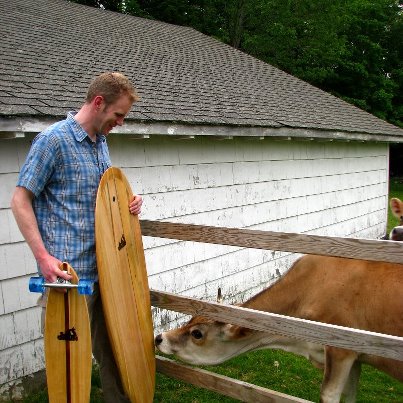 After meeting the Grain crew I headed south to Annapolis to meet John C Harris and all of the Chesapeake Light Craft team.
I got taken to a crab shack for dinner on the Cheaspeake bay - awsome! Typically American, hitting crabs with a wooden mallet and plenty of beer. End of day one with CLC and I vowed to return!
The next day was a tour of the factory and meeting all the staff, a drop into the Kaholo SUP class run by Bill Cave, and a ride on Madness, John's Pacific Proa.
More to follow!