Anything is possible!
A Flying Dutchman on top of a Volvo 'Amazon':-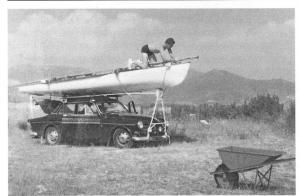 The NE Dory is pretty light but beamy and therefore quite bulky. I toyed with car-topping the boat when I first embarked on the build but it became apparent once the hull was complete it would be a no-no on a regular basis. Maybe OK for a one-off trip though.
I'm tall and built like a gorilla, so is my rugby-playing son and between us lifting the boat up into the air and onto the roof bars of a normal car, or estate car, would be a proper challenge. More problematical if you have a tall SUV. I would say it can definitely be done but only safely if 4 strong guys are involved. And that's if the boat is put on the roof bars right way up. Putting it on upside down creates more handling difficulties, to say nothing of the requirement for roof bars in excess of 1.5m long.
At the end of the build I'm guessing that the boat with be an expoxied/glassed 'bare shell' complete with gunwhales and bulkheads? If so, it will be plenty stiff and robust enough to get it up on to the roof bars. Driving 380 miles with it on top of your car, in autumnal weather, will certainly have its challenges though!
Would love to see some photos of your build as well as your reflections on the build process. Needless to say, you'll be in good hands up there in Gatebeck.
---
Recidivist wooden surfboard builder!
Built a Kaholo 12' 6" SUP from plans
Built a NE Dory from plans