Great stuff. I wish I had masked around my fillet joints on mine and kept them a lot neater as a result. Yours look really tidy.
I am building a Shearwater 16 Hybrid. First coat of varnish to the deck today. I started just as we had lockdown.
When I glassed the hull my build manual suggested laying the three pieces of glass all at once. This comprised first layer whole hull, second trimmed to the chine and third a keel strip for the bow and stern last metre or so. I would guess yours has a similar set up?
I found this tricky. it is not easy to glass 3 layers at once and get it right especially as it is the first major glass job you do. Also the cut edges of the smaller panels tend to fray and pull out threads with the spreader/brush which are hard to sand later. You also get a more obvious edge to feather this way around anyway. Finally the keel strips are quite hard to keep in place as you coat them with epoxy and tend to slide about.
If I did it again I would either lay them down in the opposite sequence and avoid having the cut edges uppermost or better still I think I'd do it in either two or three stages, applying them within 24hrs so there is still a good chemical bond with the epoxy uncured. You do it this way for the deck underside where a second layer patch is added around the cockpit so i am not sure why the hull has to be done in one go.
One last tip. When you lay out the fibre over the hull I found leaving it overnight really helped it to sort of 'flow' into position and stretch around the contours etc. A large soft dry brush like a wallpaper brush is also good for smoothing i had no issue with wrinkles.
I am writing a post of tips/tricks I have learned like this and I hope it be something people can comment on and add to or edit as needed. Let me know if what I have suggested is useful!
Pic attached is before final sanding. I am not going to post a pic of my messy fillet joints!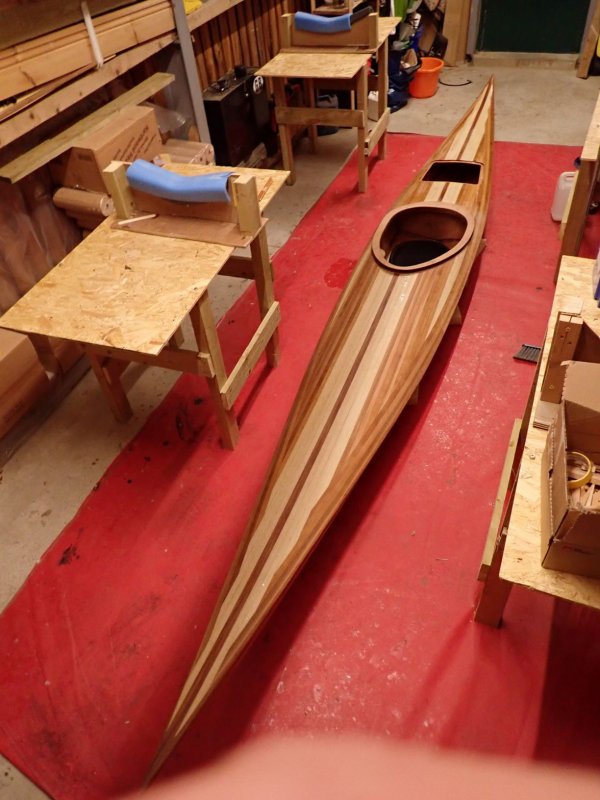 Bruce