Having to cut short our 10 day trip to Scotland because of the weather was very disappointing. Now only being able to grab a day here or there for further trips, I was being a bit of a spoilt brat and wasn't holding out for much in the way of a quality trip.  A suggestion that we go for an overnight trip near Barrow in Furness did little to change my thinking, after all Barrow is just supermarkets (they seem to have a huge one of all the different varieties) and a ship yard which is so big I can see it across the bay from where I work. But a bad paddling trip is still better than a good day in the office so off we set.
Entering Barrow all my preconceptions were instantly met as we drove past every conceivable supermarket towards BAe's "big shed".  Heading out through Rampside towards Roa Island things began to change. We drove through pretty countryside along a beautiful coastline with swathes of sand, the near distance dominated by Piel Island and its impressive castle.
Parking up, we first went to visit the lifeboat station, perched on stilts just off the end of the island.  Not only are the RNLI very good at rescuing people, they also know how to keep their boats ship shape.  If it weren't for the lists of all the recent incidents that they'd been out to, you'd easily be convinced that their lifeboat was brand new and hadn't been used.
Looking out to sea, a slope just to the right of the Piel ferry slipway gave relatively easy access to the beach and a couple of hours before low water we headed south east following the line of the Foulney embankment.  We aimed to visit two little islands the Falklands and St Helena which lie either side of the appropriately named South America sand bank.
Paddling in these parts is strange, you tend to have no idea whether you're paddling in leagues of water or inches, only the steepness of the waves and their breaking along with where the many seabirds were either bobbing or standing, giving clues.  Thus it was that Dick discovered South America by running into it.
Having found such a large feature we now felt confident in finding a smaller one, but despite passing right over its marked position, the Falklands weren't to be found. Wondering whether the tide needed to be yet lower still, we continued to another sand bar, the Mort Bank for a cup of tea.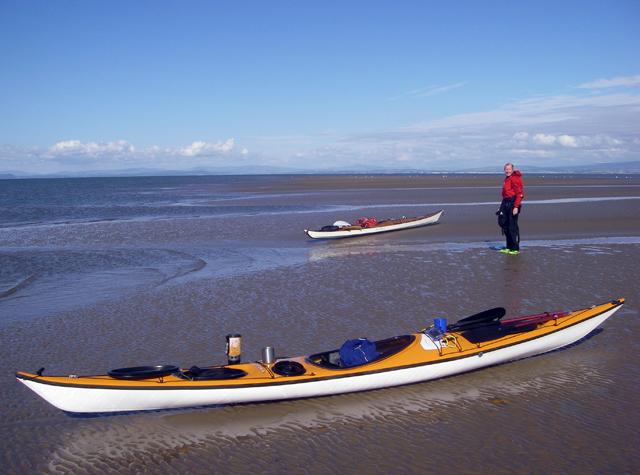 Time for tea. On the Mort Bank.
It was at this point (I'm typically quite slow on the uptake) that I realised what a truly magical place we were in. The panoramic view was incredible.  From the wind farms to the West, the Lakeland hills to the North, round through the Howgills, Ingleborough, Clougha all the way round to Blackpool Tower in the South.  Here we were, by ourselves, surrounded by sea birds, on a proper adventure and I could still see my house.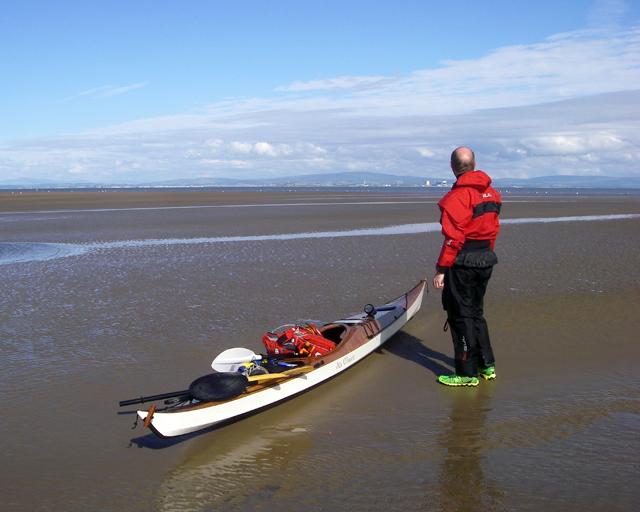 I can see my house from here.
Drinking our tea, admiring the view, the receding sea began to offer up further sand bars, one appearing to be where the Falklands should have been. Paddling over to it, our position was right, but any rocks had been overwhelmed by sand.
St Helena on the other hand was a very definite rocky island, covered in lurid green weed and a multitude of gulls.  There was no sign of the constellation of starfish that were rumoured to dwell there though.  As we passed the island Dick glanced back over his shoulder and noticed that the green weed was covered with something red.  Paddling back we discovered them lying everywhere.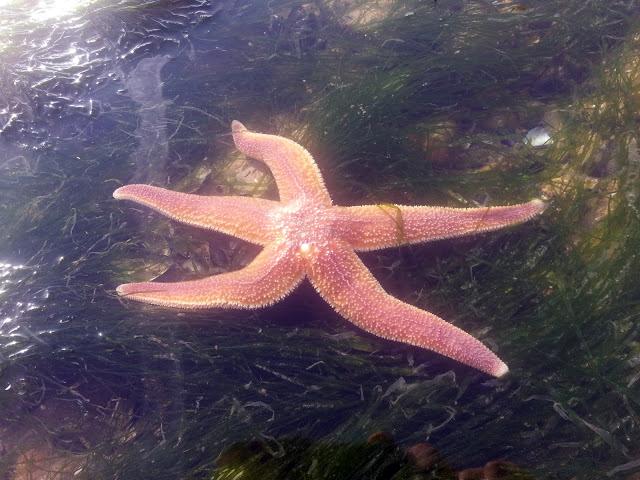 Not one starfish...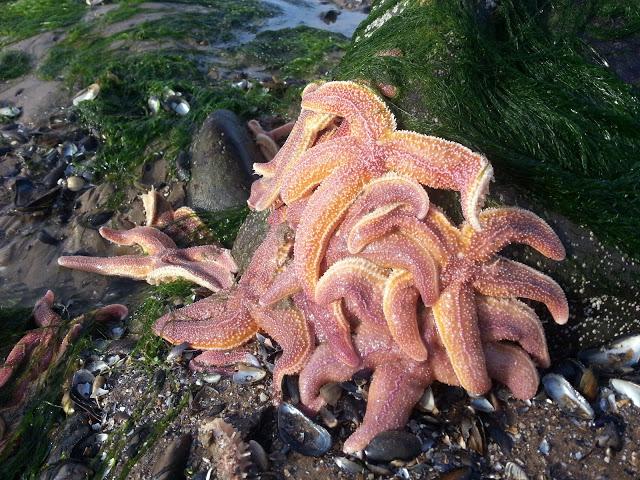 ...but a constellation.
With the start of the flood helped is on our way to Piel Island, past the noisy and very smelly colony of seals on South Walney.  This would have been an amazing day trip, utterly changing my mind about paddling in our own back garden (pond?) but this wasn't a day trip and we were soon carrying our boats up onto the pub lawn at Piel.  A couple of very good pints and we retired to our tent, watching the boats go by...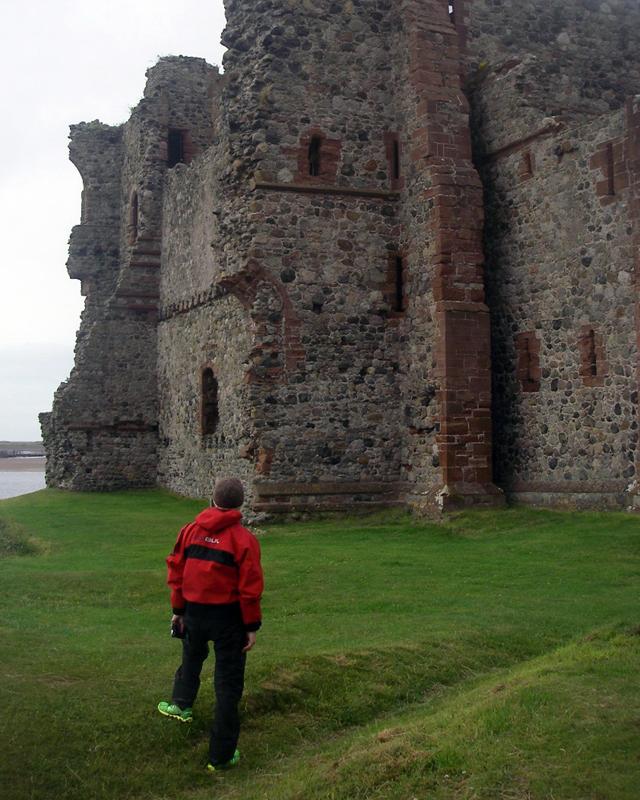 Not only a great pub, but a castle too.
The following morning the flood tide was well and truly running.  It really does shift and occasional bursts of speed were needed as I misjudged the ferry glide across the channel.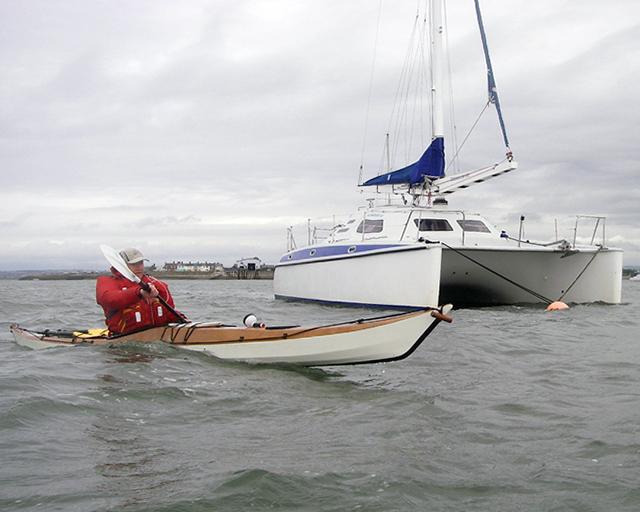 Cat avoidance. Definitely didn't want to hit this one as the people who own it are lovely.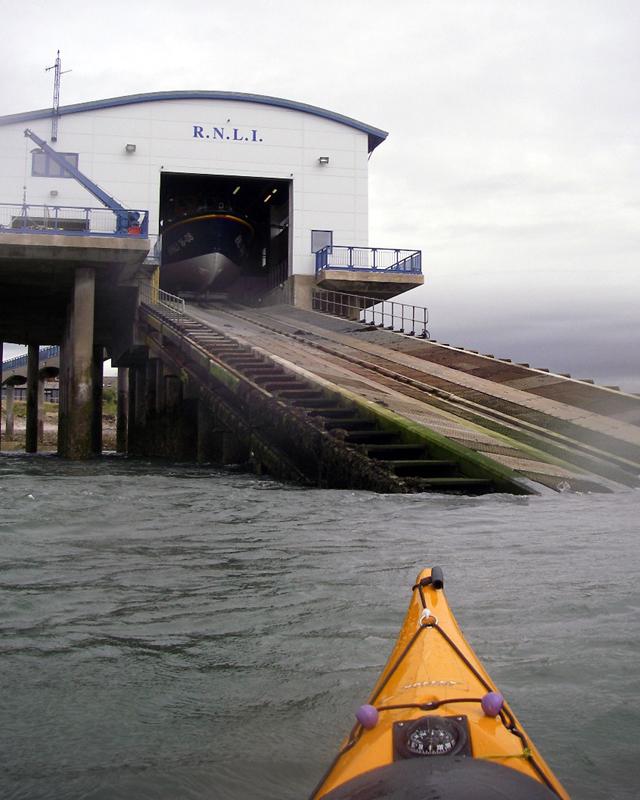 Being swept sideways past the lifeboat station.
Back at Roa they were just putting up the bunting and setting out the chairs, we'd either arrived a bit early or there was something going on that afternoon.  Though others may not of being sharing it, our mood was definitely celebratory having discovered that sometimes you don't have to go that far to discover new things and have a proper adventure.
Huge thanks to Dick for photos and sharing the adventure.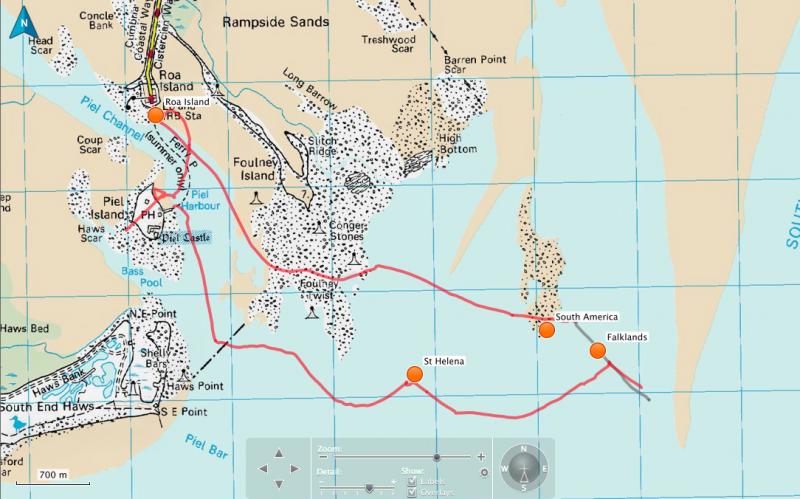 Last edited by Alistair S (14 Aug 2015 3:00 pm)